Reorganize your B2B sales force and increase sales!
Reading time: 3 minutes
Top B2B commercial executives: "Reorganizing the B2B sales force and moving closer to our customers have been our most important actions in order to increase sales'"
(Source: Sales Guard's B2B Commercial Executive Survey)


When asked about which single action had the most positive impact on sales for existing B2B accounts in the last two years, commercial executives at large Scandinavian corporations point to reorganizing their sales force. Some say that dividing their sales force into smaller units, enabling their sales people to focus on specific customer segments or products, raised sales for existing accounts – whereas others experienced sales growth after bringing in new sales people, simplifying communication and responsibility lines or removing administrative tasks from the sales peoples' desks.
Apart from restructuring their sales force, commercial executives also experience increased sales after implementing "closer-to-the-customer initiatives" or supplying their sales people with new digital sales tools such as CRM systems or different types of analytical/calculation tools.
Furthermore, some exporters say that introducing new products and continuously working with product development has been the primary reason for sales growth among existing customers.
Chart 1: In the last two years, which single action has had the most positive impact on sales for your existing B2B accounts?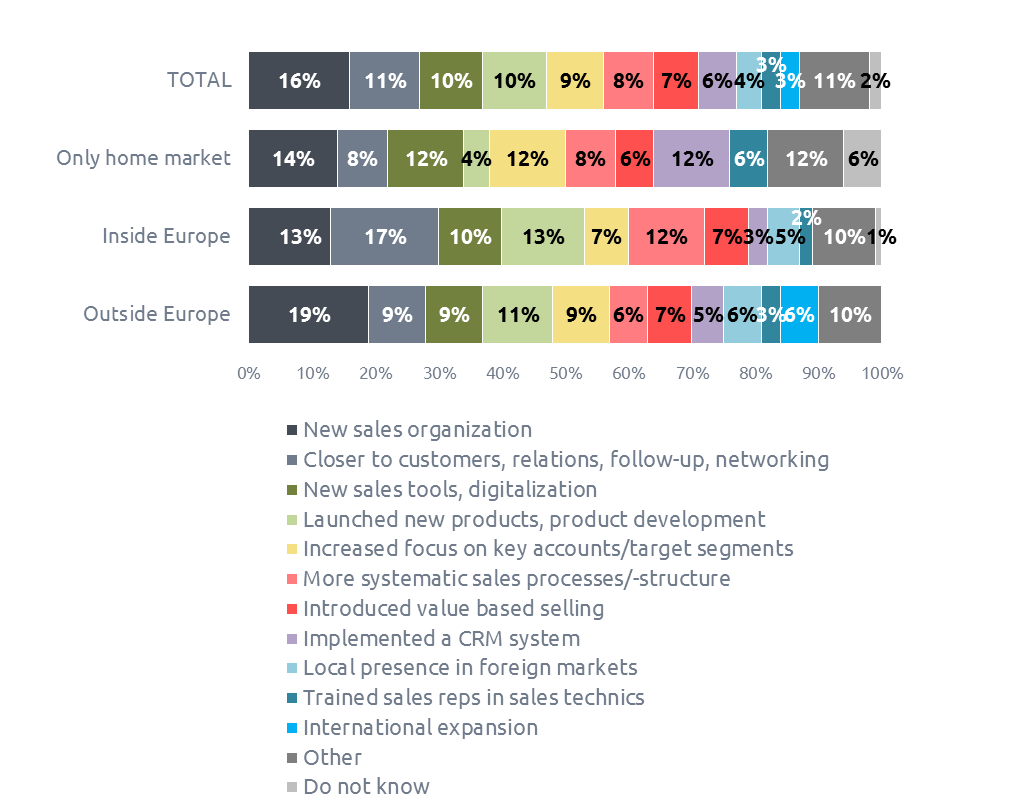 ---
Commercial executives on which single action had the most positive impact on sales:
"We divided our sales force into different divisions at the same time appointing some new, younger colleagues as leaders of each division – and saw them grow each individual business (COO)"
"The best thing we ever did was to divide our sales force into smaller units in order to increase focus on each business area" (Country General Manager)
"We slim-lined our sales organization making lines of communication as well as responsibility structures more simple" (Sales Director)
"We made a big-scale organizational change in the sense that the sales function now reports closer to corporate management. Moreover, we now have three sales executives in the corporate management team" (Director)
"We introduced a new "Global Key Account Manager" position in order to fit the centralized decision making structures of our global accounts and have the necessary strategic dialogue at this level" (Global Key Account Manager)
"We arranged a customer symposium giving us three days of access to customers from all over the world, presenting our products and listening to customer needs" (Vice President Sales)
"We introduced "business get-togethers" which basically just means spending more time with each customer than is usually seen in our industry – in order to discuss new possibilities of cooperation and present our total offering" (Sales Manager)
"We bought Ipads for our sales people giving them direct access to our CRM system and product demos. This raised the quality of our presentations and moreover the sales people started tapping in important information in the CRM system" (Sales Director)
"We introduced some new online tools for the sales people giving them both online and off line access to all relevant product information" (Director Sales & Marketing)
"We segmented our customers by profitability and share of volume in order to identify the most important strategic accounts – then we rolled out specific actions targeted at these accounts in order to secure our business" (Sales & Marketing Director)
---
About the survey
Sales Guard's B2B Commercial Executives Survey uncovers best practice within the area of B2B upsell strategies, sales management and customer relationship management among the biggest Scandinavian corporations.
The survey was conducted in the period of July–December among 249 commercial Executives in Norway, Sweden and Denmark. Interviews in local languages were done by telephone from Aalund Research Center in Aarhus, Denmark.
Main conclusions are published in a series of newsletters on www.salesguard.com in the period of January–July.
Survey sample